Hello Loves and Happy Monday!!!!
Today, I want to share with you TWO DIY projects perfect for the these lower temps. It is all about the details with these sweaters. One, I'm sure you will recognize right off the back. The other is just plain awesome and of course, they will not break your bank.
By now, most everyone has seen and obessesed over this J.Crew Tippi sweater in " Heart Me".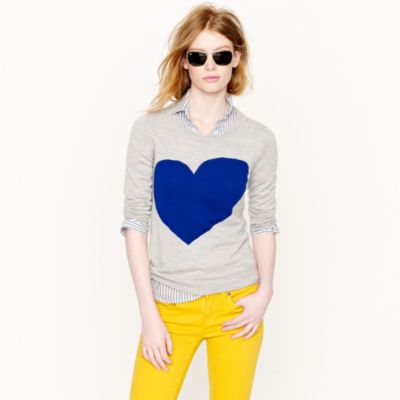 It's Oh So Cute! However, what is NOT so cute is shelling out $90 for it. Truly inspired by the large oblong shaped heart, I thought I'd show you guys how to get the look for less. All you need is an old sweater, one you don't mine "enhancing". I got mine from Target for $18. A large sheet of self adhesive felt in the color of your choice ($2 at craft and hobby stores) for the heart, a black permanent marker, and scissors.

Steps:
Place the sweater on a hard surface, making sure it is free of wrinkles.
Using a black marker, sketch a large heart shape. It doesn't have to be perfect.
Cut along the edges of the heart shape.
Peel the adhesive backing from the heart and place it edge by edge onto the sweater.
Style it up. I used a chunky neklace and a white button down. Enjoy!
For my second DIY, I am going to show you how to turn an old boring sweater into a dazzling number for holiday parties. Embellished tops are so in right now. Whether it is sequins, rhinestones, or lace, embellished sweaters are jewelery optional.
All you will need for this look are a few rhinestones, a fabric glue gun, and of course an old sweater. I got this one YEARS ago. Embarrased I haven't tossed it yet. It's so comfy and it 's rare that Forever21 clothes last this long.
Steps:
Place the sweater on a hard surface; again no wrinkles.
Heat the glue gun.
Place the rhinestones along the neckline in the desired pattern.
Glue each piece to the neckline and let it dry.
Style it up; no necklace necessary.
Hope you guys enjoyed this! Leave a comment below if you liked it and a link to your post if you tried it out!! Happy DIY!